What will I do?
You will train to work as a paramedic or an EMT. EMTs and paramedics provide care for the sick or injured in an emergency setting.   They respond to emergency situations, such as car crashes, natural disasters, and acts of violence.
What classes will I take?
You will learn all about how to treat people who are having emergencies like heart attacks and strokes.
What skills do I need to start school?
You will need to pass Anatomy and Physiology. You will need to test into college level math and English classes. You will need to pass a criminal background check.
What can I do with a certificate?
You can work as a Paramedic, if you pass the certification exam.
How long does it take to complete a certificate?
The program usually takes a year.
What are the next steps in a pathway?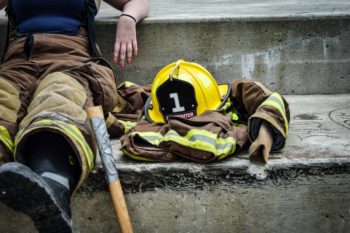 You can work towards EMT certification. Some fire departments require Firefighters to have EMT certification.
What can I do with an associate's degree?
This degree is helpful for EMTs who want to work as a paramedic. It's also useful for paramedics who are looking to advance in their careers.
What are some challenges?
The work can be physically strenuous and stressful, sometimes involving life-or-death situations. You cannot be grossed out by blood or other bodily fluids. You will need think fast on your feet and make decisions quickly.
Sometimes the people that you treat can be belligerent or drunk and they might try to fight you. You need to be physically tough.
How easy will it be to get a job?
Employment of emergency medical technicians (EMTs) and paramedics is projected to grow 15 percent from 2016 to 2026, much faster than the average for all occupations. Source