What will I do?
Auto mechanics diagnose, correct and repair electrical, fuel, emissions and mechanical problems in cars.
What classes will I take?
You will take classes that teach you about every part of the car – the engine, the brakes, the transmission, etc.
What skills do I need to start school?
You will need to know basic math. A basic knowledge of how a car works will help.
What can I do with a certificate?
Certificates prepare you for entry-level jobs in the automotive industry. For example, you may get a job working on brakes or changing oil.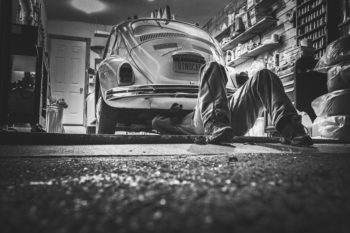 How long does it take to complete a certificate?
Depending on your school, some programs can be completed in one semester.
What are the next steps in a pathway?
Schools typically offer several automotive certifications. You can work towards another one while working in the field. Your credits should transfer to an associate's degree.
What can I do with an associate's degree?
An associate's degree prepares you to work as a mechanic.
What are some challenges?
You need to be the sort of person who likes to take things apart and put them back together again. Working on cars can be hot, smelly, and dirty.
How easy will it be to get a job?
Employment of automotive service technicians and mechanics is projected to grow 6 percent from 2016 to 2026, about as fast as the average for all occupations. Source