Here are five tips for making the most of a Skype or other video interview:
1. Look Professional

Before the interview, look up the organization's website and Facebook page to get a feel for company culture – is it a casual or professional? Take your cues from what you see, but remember that it's always better to be more professional rather than less. If all of the company executives wear blue jeans and tee shirts, wear pressed jeans and a shirt with a collar.
And don't cheat by wearing your favorite sweatpants on the bottom and a blazer on the top– what if you have to stand up to adjust your equipment or get something?
Don't Dress Like This…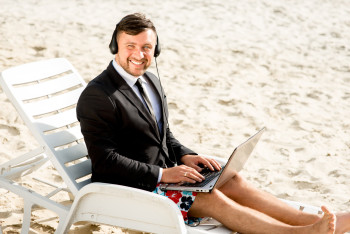 2. Keep a clean, neutral background & Quiet environment
Look behind you to see what the interviewer will see – if it's piles of dirty laundry or heavy metal posters, clean it up. You don't want to share too much; a bookshelf or neutral wall with a picture on it will keep the interviewer's eye on you.
Close the door, and let your roommates or family know that you're having an interview – you don't want to be interrupted.
3. Practice!
Ask a friend to do a practice interview with you. If you can, record yourself as you answer practice questions and analyze how you looked and sounded. Do it again and see your improvement.
4. Remember to smile & make eye contact.
The same as with an in-person interview, be sure to smile at the interviewer and look him or her in the eye as you speak.
Look at the webcam and not the person on the screen, it will feel natural to look at them on the screen but on their end they will see you looking down and not at them.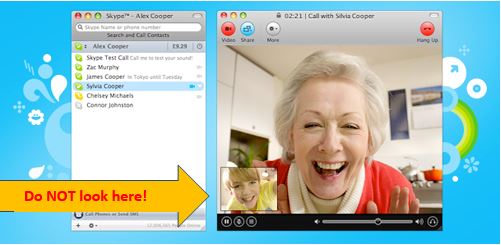 An advantage of a Skype interview is that you can have notes with you, but look at them sparingly and don't shuffle pages.
Don't fiddle with your keyboard or glance at your phone – as much as you can see your interviewer, they can see you.
5. If you have tech problems, address them right away.
If you experience a glitch – your camera or sound goes out, or you hear distortion – apologize and tell the interviewer you need to hang up and try again.Check out this video below for more tips on how to set up and conquer a Skype interview: https://www.youtube.com/watch?v=rQwanxQmFnc