"This class is not what I thought it was going to be…"
"I have too much on my plate this semester…"
"I wish I hadn't signed up for this course…"
…Are these some of the thoughts running through your mind about a specific course lately?
If this happens to you, you'll have to make some tough choices.
Should you withdraw from the course before you fail it?  Should you give it your best shot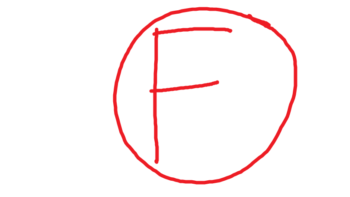 and risk getting an" F" on your transcript?  Or if you are behind in your reading and course work, should you try for an incomplete or stick it out?
There is no set of answers that are right for every student, but here are some things you might want to consider if you find yourself in this position:
Course Withdrawals: 
What does this mean?
Withdrawing from a course means you drop a class and are no longer enrolled and are required to complete work, tests, etc.
When do I know if I should withdraw?
If you are likely to receive an "F" for a course, you are better off dropping it
Make sure you don't wait too long to withdraw or you'll be out of luck. If you withdraw late, you'll receive a grade of "WF" (withdraw-failure), which counts as an "F" in computing your GPA.
What could happen if I stay in a course that I'm struggling in:
Staying enrolled in the class may result in an "F" for the course which will seriously bring down your GPA.
Remember, you need to maintain at least a "C" average (2.0 GPA) to remain a student in good standing at your school to proceed with earning your degree.
You need a 2.0 average to continue receiving your Pell Grant, your ETV funding, and possibly other financial aid money that you are receiving.
What should I expect when I withdraw?
In order to receive a grade of "W," you must officially withdraw from the course; if you just stop going to class, you will receive a grade of "F."
Note: Your college catalog or student handbook spells out the procedures you must follow and the deadlines you must meet to officially withdraw from a course without penalty.
a "W" on your transcript will not lower your GPA if you withdraw from the course within the allowable time your institution permits withdrawals to take place.
If the course that you withdrew from is one that is required for graduation, you will ultimately have to re-enroll in the course and take it for credit.
Too many Withdrawals can affect your Pell Grant and your ETV funding.
What should I do after I've dropped a course?
If the course is required, audit the course before you take it again for credit.
Auditing a course means that you sit through all the lectures, read the textbook and any assigned readings, and get familiar with course requirements.
When you audit a course, you don't get a grade, you don't take tests, and you don't have to turn in homework.
By auditing a course, you have the opportunity to become familiar with the material in non-stressful way. It's like taking a test drive in a car you plan to buy.
When you ultimately take the course again for credit, you'll know what to expect and you will be familiar with the material.
If you take the course again:
Arrange for a tutor right from the start of the class to ensure that you have help understanding the material from beginning to end.
Join or start a study group for the class.

Research has shown that study groups are very effective in helping students master the material presented in class and prepare for exams.

Meet regularly with your instructor to clarify any points that you are unsure of and to ensure that you stay on track in the class.
Taking an Incomplete:
What does this mean?
Much like it sounds, you were unable to complete the required coursework for a particular class, thus: incomplete.
Note: not to be confused with the fact that you were supposed to turn in your 20 page paper, but didn't feel like doing it.
How do I go about making a course officially incomplete?
You need to get permission from your instructor.
If you don't get your instructor's approval to get an Incomplete, you will receive an "F" for the course.
Make an appointment to discuss your situation with your instructor. You should have a good reason why you cannot submit your work by the end of the term

Poor time management on your part does not constitute a legitimate reason for the instructor to give you a grade of "Incomplete" and permit you to turn in your work later.
What should I expect if I take an incomplete?
A grade of "Incomplete" does not count against you in computing your GPA .
Your school will set a due date for you to complete the course (usually by the end of the next semester)
If you do receive an "Incomplete" and do not complete the course, you will receive an F
You can take control of your grades even if it looks like you might fail.  Don't let the pressure of problem classes make you lose sight of your own ability to make choices and take action in difficult situations.  You can get through the tough times and reach your educational goals.